I am a HUGE salsa lover, so when I heard Angie of Little Inspiration & Sonja of Shy Babies were putting on a FOOD.FUN.HOP.  with Wholly Guacamole"s new Wholly Salsa line, I rushed over to sign up!
I was excited when I thought I was getting one container of salsa, but when the UPS man arrived with a HUGE cooler filled with 8 varieties of salsa + a few packs of Wholly Guacamole thrown in for good measure, I was ecstatic!  My parents where having a barbeque that weekend, so I decided to bring my goodies over and do a little taste test with them.  I figured I would like the salsa being a salsa fan and all, but this salsa is honestly the best I have ever tasted!  We loved all the different flavors (except I didn't care for the mango, but no surprise there since I don't like mango…). The main thing everyone kept saying was, "Wow!  It just tastes so fresh!".  When we ran out of chips before we ran out of salsa, and my dad actually left the house and bought more!   Oh, and did I mention they are all natural?  NO preservatives or additives, gluten free, and Kosher certified!
There were so many amazing flavors to choose from, I had a hard time choosing a recipe.  But since my absolute favorite was the HOT! Salsa, it's no surprise that the recipe I choose  is for Diablo Shrimp Quesadillas.  Years ago, I worked at a Mexican restaurant, and this was one of my absolute favorite dishes, so I decided to try to duplicate it, and here's what I came up with:
Wholly Salsa Diablo Shrimp Quesadillas
1 lb shrimp, peeled and deveined
3/4 cup HOT! Wholly Salsa (can sub mild or medium if you prefer less heat)
2 cups shredded Monterrey Jack & Cheddar cheese, mixed
flour tortillas
butter
Wholly Salsa Guacamole & Spicy Pico (optional)
Sour Cream (optional)
1)  Boil the shrimp for 1-3 minutes until they turn pink.  Drain, and put them into an ice bath to stop cooking. (Tip:  If your shrimp need to be peeled, and like me, peeling raw shrimp makes your hands itchy, just boil them with the shells on and peel them once they are cooked…maybe common sense but I never thought of it until my hubby told me to do it!  lol)
2)  Mix the shrimp and salsa in a small bowl and let it marinate in the fridge for at least 30 mins (overnight is perfect).
3)  Heat up a non stick skillet, or flat grill on medium-high (my grill uses degrees, and I cook them on 350 F)
4)  Take two tortillas, and butter one side of each.  Put one tortilla butter side down on the grill, top with a layer of cheese, then the shrimp/salsa mixture, and then, another thin layer of cheese.  Place the second tortilla on top, butter side up.  Allow the bottom tortilla to brown, and the cheese to start melting (think grilled cheese…only with tortillas).  Once the bottom tortilla is browned, use two spatulas (or a spatula and large cooking spoon.  You just need one to flip & one to hold it together) to flip  it to the other side.  (If you are using burrito size tortillas, you may want to use just one tortilla folded in half omelet style to make it easier to flip)
5)  Once it is browned on both sides, remove from heat and let stand for a few minutes before cutting…just long enough that the cheese won't all ooze out everywhere when you cut it.
6)  Cut it into 4-8 pieces depending on what size tortillas  you are using, the same way you would cut a pizza.  Serve with Wholly Salsa's Guacamole and Spicy Pico and sour cream.
And here's a bonus tip for you since it's summer!  These are perfect for taking to the beach or lake!  Simply put them on a cooling rack after cooking and allow them to cool completely.  Once they have cooled, cut each one as instructed above and wrap them individually  in foil.  Put them in a ziploc bag and keep them in the ice chest.  A bit before you're ready to eat them take them out and let them sit in the sun.  The foil will heat them up and you are ready to eat!  Of course, they're great cold too if you are too hungry to wait!  : )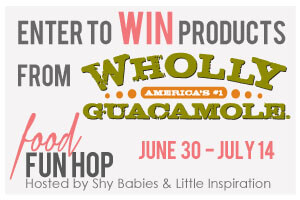 So now for the fun part!  Wanna win your own cooler full of Wholly Salsa & Guacamole products???  Simply fill out the Rafflecopter form below for your chance to win!

a Rafflecopter giveaway


And the fun doesn't stop here! There are 33 other blogs participating in the FOOD.FUN.HOP., each hosting their own giveaway! Be sure to check them out for more great recipes and more chances to win!