Alright!  This week, we are going to go over trims.  The first few trims I am going to discuss are made using bias strips.  If you need more info on how to make bias strips, check out this post.
Bias tape, also known as bias binding, is used for binding seams, arm cyes, hems, etc.  It can also be used to create casings, ties, or to add a decorative touch or contrast to your project. You can buy pre-made bias tape in an endless array of solid colors, and even a few stripes and checks, but once you know how to make your own, the possibilities are endless!
(From left to right)
Single Fold Bias Tape, Double Fold Bias Tape, Extra Wide Double Fold Bias Tape
 There are two types of bias tape: single & double fold.  The pre-made types also come in the regular and extra wide widths.
With single fold bias tape, the raw edges are folded in along the long sides of the bias strips, and you apply it by top stitching along the folded edge on both sides of the tape.  I prefer to use a reinforcement stitch when doing this because a reinforcement stitch does multiple stitches in one spot to tie off the stitch so it is not visible on the front/outside of  your project.
Double fold bias tape is folded a second time, just off center so that one side is approximately 1/8″ – 1/16″ wider than the other.   This is to insure that when you are top stitching the bias tape down, you will be sure to catch the tape on the under side.  When applying double fold bias tape, place the wider side on the inside or underside of the fabric and top stitch along the fold of the narrower side (the side that is on the top/outside of the fabric).
MAKE YOUR OWN BIAS TAPE
All bias tape starts out with bias strips.  The width of your bias strips will be determined by the width you need the finished bias tape:
Single Fold Bias Tape:  1/2″  (cut bias strips 1″)
Extra Wide Single Fold Bias Tape:  1″  (cut bias strips 2″)
Double Fold Bias Tape:  1/4″  (cut bias strips 1″)
Extra Wide Double Fold Bias Tape:  1/2″  (cut bias strips 2″)
These measurements are just to give you an idea if you are not using a bias tape maker.  If you are using a bias tape maker, follow the instructions on the pack because some require strips a little smaller.  Generally though, if you are making single fold tape multiply the desired finished width by 2 to find out how wide to cut the bias strips, and for double fold multiply it by 4.
Once you have cut and pieced the bias strips together to the desired length, you are ready to make your bias tape!  You can do this by hand folding and ironing as you go, or you can use a bias tape maker.
Clover Bias 1-Inch Tape Maker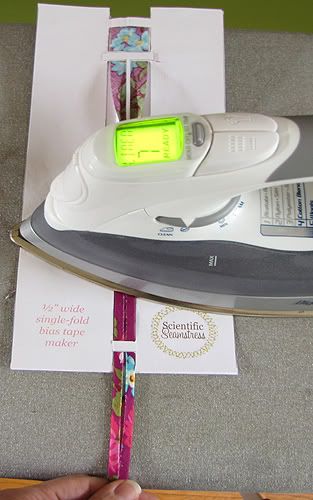 The Scientific Seamstress offers a free printable bias tape maker.  Download the 1/2″ here and the 1″ here.
MeiJo's Joy has a tutorial for DIY bias tape makers from old craft cutting blades!
But my favorite method, I learned from Creative Little Daisy!   It's so simple!  When I saw it, I was like "why didn't I think of that?!?!"  All you need is a pin, iron, and ironing board.
side note…I might be showing my age but just now when I looked at this pic, I totally started playing My Angel is the Centerfold in my head…lol
Okay,okay, back to business!  Decide the width your bias tape needs to be.
Single Fold:  This will be the finished width.
Double Fold:  This will be twice the finished length.
For demonstration's sake, we will use 1″.  Make two dots on your ironing board 1″ apart.  Insert a needle into the ironing board cover just before the dot, and have it come out at the first dot.  Then, insert it back into the next dot, and have it come back out right next to the dot (as pictured above).  At the beginning of the bias strip, mark the center point (of the short side).  I just fold it in half and press a small crease into it, but whatever works for you is fine.
Fold the raw edges (on the long sides of the bias strips) to the center and slip it under the pin.  If you have trouble getting it through, you can use a pin or seam ripper to help get it under the pin.
Slowly pull the bias strip through, pressing as you go.  Once you get a long enough piece done, you can simply set the iron down on the ironing board, and slowly pull the strip through.  Just be sure to pay attention to the other side as it gets folded by the pin…sometimes the fold will go off to the side…
If you are doing double fold, you don't even have to worry about moving the pin!  You can simply fold it in half repeat!  Just make sure when you fold it in half you make one side a teensy bit wider.
Any questions?? Feel free to ask in the comments section!  Happy Sewing!