Hello Wildflower & Whimsey Readers!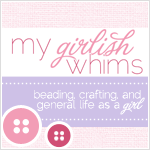 My blog is all about beading, crafting, and general life as a girl!
Today I'm excited to be here to share a super yummy recipe for a Pineapple Cake with Cream Cheese Frosting!
Here's what you need to make it!
 For the cake:
-2 cups flower
-2 cups sugar
-2 t baking soda
-2 eggs
-1/2 cup chopped walnuts
-1 can crushed pineapple with juice
For the icing:
-1 8oz package of cream cheese
–1 stick of butter
-1 1/3 cup powdered sugar
-1 t vanilla extract
 This cake is super easy to prepare. Literally, just dump all of the cake ingredients into a bowl
Mix it up
And pour into a 9×13 inch pan! Throw it in the oven at 350 degrees for 35-40 minutes.
While the cake is baking, throw all the ingredients for the frosting into a mixer.
And mix together until combined and smooth.
When the cake is done it should be lightly browned.
Let it cool, and then ice it!
Yum! This cake is super moist because of the pineapple and juice in it.  It's a favorite of mine for sure!
It comes together pretty fast too, so it's good to make in a pinch 🙂
Thanks for letting me guest post April! I hope you will all stop by and check out
my blog
sometime to say hi!